The I-5 Drive: Stops from Portland to Seattle
Three hours is just too long to sit in the car. The infamous slog between Seattle and Portland invariably adds a few more hours due to bizarre traffic snafus. (What is the energy vortex causes the mysterious slowdowns in Tacoma, Olympia and Chehalis, anyhow?) Put it all together, and you've got a real tantrum starter for parents and kids alike. Unless you give up for a little bit, pull over and chill out. Here are a few of our favorite kid-friendly stops along the Seattle-to-Portland I-5 route.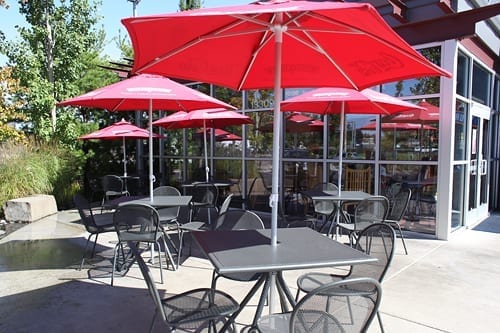 Exit 7: Burgerville. This Salmon Creek Burgerville (on the edge of Portland) is a fast-food diner that thinks it's a restaurant – thank goodness. There's outdoor seating, an indoor play area with crayons and a few toys and small kid-size picnic tables. Eat your local blackberry shake, Walla Walla onion rings or juicy natural-beef burger; on some weekends, you'll also encounter no-cost kids' events. Free wifi, too. Exit 76: Recreation Park and Penny Playground. If a three-year old designed a fort, it might look a bit like this park's peaked playground: a delightful maze of levels, hiding spots and peek-a-boo corners. Even the stairs surprise here – they shake beneath your feet while leading you up to tunnels and turrets. A large grassy area encourages running, if you packed a boomerang, kite or frisbee. Cool off with the on-site spray park and pool in summer.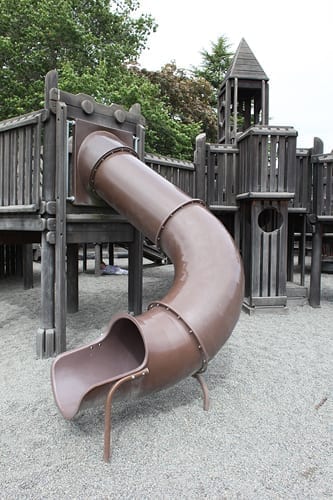 Exit 81: Olympic Club Hotel & Theatre. This historic building in the McMenamins chain offers lovely outdoor dining next to a train track, so kids can watch rail cars hustle through downtown Centralia. A cozy pub-style interior restaurant serves breakfast, lunch and dinner; the movie theater and last-minute hotel may bail you out if there's sudden snowfall or a four-hour traffic delay on the freeway. Exit 82: Burgerville. Yes, another Burgerville. But the Centralia location is the first that southbound travelers encounter and the last that northbound roadtrippers can dine at. Pick up a healthy kids' meal (served with apples instead of fries, if you like) right at the halfway stopping point between Portland and Puget Sound.
Exit 88: Great Wolf Lodge. If you decide you'd like to make a stopover between Portland and Seattle, this is a popular destination. Read more about what to do in Grand Mound at 18 Tips for Visiting Great Wolf Lodge. 
Do you have a favorite kid-friendly restaurant, activity or playground along I-5?