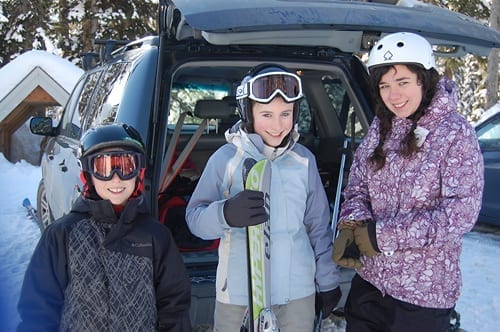 Family Travel: Manning Resort, BC with kids
In winter, many of Washington, Oregon and BC's ski resorts become overwhelmed with hordes of weekend ski bums (yes, that description includes my own family). For a change of pace, smart families — like Bellingham-based travel writer Joanna Nesbit's family — head for the quieter ski resorts. No, the resorts aren't filled with flash 'n' cash, but they're perfect for a low-key, snow-filled getaway. We chat with Joanna to find out what she loves about Manning Park Resort, set in British Columbia's lovely Skagit Valley Provincial Park.
Located a mere 2. 5 hours northeast of Bellingham (Sumas/Abbotsford border crossing) and two hours from Vancouver, BC, the area is a fine option for a long weekend or a winter break.
Who went? How long did you stay? How did you hear about Manning Resort?
Over President's Day weekend, we took our family of four plus a friend (Curt, Joanna, Leah, 13, Ty, 11, and friend Emma, 13) to Manning Park Resort in British Columbia's Manning Provincial Park for a weekend of alpine and cross-country skiing and snowplay.
We've been visiting Manning for some 15 years, and one year by accident we discovered that many families from our neighborhood make the trek for President's Day weekend. This holiday weekend — also a 4-day school break — has turned into a Manning tradition for many Bellingham families.
Manning Park Resort has a lodge and cabins, and all visitors stay at the resort because there are no other lodgings nearby. The resort is 45 minutes from Hope to the west and Princeton to the east.
Besides offering a friendly ski scene, the resort is compact enough that you can let your kids wander fairly freely (depending on your comfort level), which is what we love about the place. Manning has a pool/hot tub facility (the Blue Lagoon), a sledding hill, and an ice rink. Kids need adult accompaniment to the pool, but the sledding hill is close, and snow play is right there. You can rent ice skates for the rink, where you'll often encounter a rousing game of hockey. There's also a game room in the basement, but it can be underwhelming. When we were there, they were out of functioning ping-pong balls because of rowdy ping-pong players.
Compared to other ski resorts, Manning is nothing fancy, but it's the low-key vibe and compact size that we especially love. The staff is always friendly, and the guests happily engage in casual conversations with each other. Many guests have been going to Manning for years, if not decades.
What types of activities did your family enoy, while at Manning Resort? Nordic skiing, downhill skiing, sledding, anything else?
Manning offers alpine skiing, snowboarding, and snow tubing at Gibson Ski Hill, 6 miles from the lodge, and miles of groomed cross-country ski trails. The kids ice skated first, and then over the next two days, they hit the downhill slopes for skiing and snowboarding, while I x-country skied. My husband skied with Ty at Gibson Hill, and then x-country skied with me the next day. We met up at the hot tub.
What we like about Manning is how it accommodates all interests, and Gibson is a small enough ski hill that you can't lose your child in the crowds, but still big enough to be fun for skilled skiers. The ski hill is never crowded, and no one waits more than a few minutes to get on the chair (there are two), even on a busy weekend. For beginners, it's especially friendly with a low-intimidation factor (no fashion contest either). The bunny hill offers a graduated experience, with a rope tow on the upper, flatter portion, and a T-bar on the lower, steeper portion. It's a great place to take lessons.
Any great restaurants in the Manning Resort area?
The resort only offers one restaurant, as well as a pub, and a tiny store that tends to be understocked and overpriced. The restaurant is good for a meal or two. The burgers are great, but service can be slow (I recommend a 5:30pm arrival to beat the rush).
Because Manning is isolated, we take groceries with us, and shop for fruits and veggies in Hope (you can't take these across the border).
What are the rooms/cabins like at Manning Resort?
The last few years, we've been staying in the main lodge in a "mini-suite." The lodge offers three different room configurations, but the mini-suite works best for families, as it includes 2 Queens and a hide-a-bed, as well as a table, chairs, mini-fridge, sink, and microwave. The resort also offers cabins, from small to large, with full kitchens. Many families we know opt for cabins, sometimes sharing a cabin with a second family.
We have stayed in cabins and in the lodge, and lately have opted for the lodge because it's closer to the amenities like the pool. I recommend both types of lodging. However, for a mini suite, be sure to book very early for popular weekends, as the lodge only offers 8 of these rooms. Otherwise, book accommodation for a less popular weekend or opt for the smaller room (comes with 2 Queens, a mini fridge, and microwave; no table and chairs).
Did you have to chain up to get to Manning?
In all the years we've traveled to Manning, we've never had to chain up, but it's always a possibility. Also, the highway conditions east of Hope can be sketchy, so always watch for potholes.
What else should we know about going to this British Columbia resort with kids?
Manning is a year-round resort, offering mountain biking and hiking in the summer (there are also several campgrounds nearby). The ski hill closes in early April, but keep an eye on snow conditions because the x-country skiing may be great and accommodation rates at this time of year drop significantly. Also, be sure to check the website for winter package deals.
Thanks for the report, Joanna! Readers, can you recommend any great family ski spots in Washington, Oregon or BC?