North Oregon Coast with Kids
Check out that view to the right of this post. Looks pretty sweet, right? The photo wasn't taken in Cannon Beach, Seaside or Lincoln City, but in the tiny burg of Pacific City, on The Pelican Pub's outdoor, beach-facing deck. If you're ready to explore further, along the North Oregon coast, consider these 11 options (heading from south to north, about two hours if you're driving straight through). Whether you want to watch whales or watch storms for spring break or just book your summer getaway, there's a town for you:
Newport. One of my favorite coastal towns for activities, dining and accommodation options. Kids love the Newport Aquarium and the Mark O. Hatfield Science Center and there are multiple delicious restaurant options. Skip anything titled or associated with "Ripley's Believe it or Not" or the Underwater Aquarium (ignore the coupons and discounts!) and spend your time on the beach instead.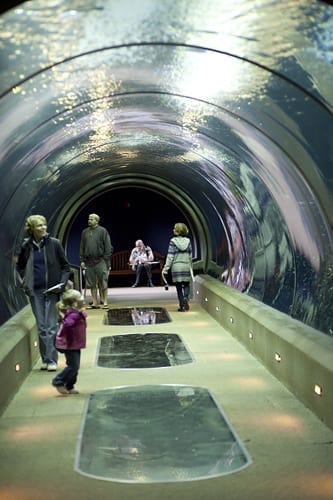 We stayed at The Hallmark Resort for just $99 for a lovely autumn-season oceanfront room. I also visited Elizabeth Street Inn and kitchen-equipped Greenstone Inn – they're all great options; the latter doesn't have the views of the first two, but there are suites available.
Depoe Bay. A slip of a town lining the Oregon Coast Highway. One recommendation: Stop at the donation-only Whale Watching Center (you won't miss it, but it's on the western side of the highway) to whale-watch on the western horizon. Trained volunteers will help you spot the distinctive spouts and kids can look at whale skeletons and facts. Although it's an adorable town, I'm not sure I would stay here with younger kids, as the road traffic is very busy. More info: Depoe Bay.
Lincoln City. This was where my family vacationed when I was a kid. It's a built-up conglomeration of mega-hotels, jam-packed antique stores, family fun centers and restaurants designed to feed and house thousands in summer. Sounds like fun? You'll have a good time here. More info: Lincoln City.
Neskowin. As if designed in direct contrast to Lincoln City, the upscale town of Neskowin seems to say, "We want a piece of coastal peace."  Here, the cozy grid streets are filled only with kids on bikes and city cars (cars filled with Costco buys — dining picks are slim to none).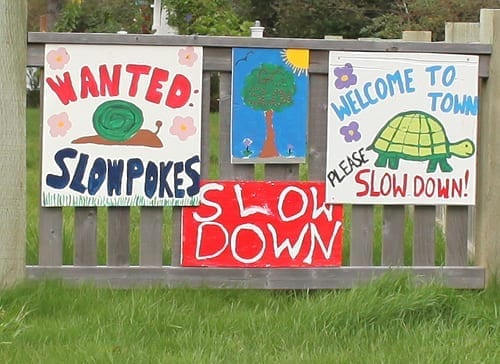 Dozens of hand-painted "slow down" signs decorate houses, electrical posts and fences. Look for rental houses through VRBO or Grey Fox (not much in the way of hotels, either). This town is very cute, and just right for the family wanting to get away from it all. More info: Neskowin.
Pacific City. Incredible views and good eatin' put Pacific City on the map. Sit right in the shadow of a haystack rock (one of a few along the North Oregon Coast)  and drink a beer on Pelican Pub's porch and watch the kids play in the sand. Breakfast or lunch at kid-friendly, window-surrounded The Grateful Bread is always a wise idea. The well-heeled Inn at Cape Kiwanda has a wine and cheese hour, lovely views, cute giftshop with kids' toys and a DVD rental option; I loved this homey hotel. A caveat: The rooms can get noisy, as sit right on the two-lane highway.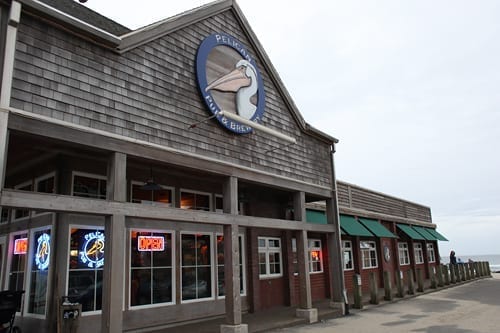 In the morning, drive north from Pacific City along the Three Capes highway, which winds through mountains and valleys to heart-stopping viewpoints.More info: Pacific City.
Oceanside. It makes me nauseous to look at the houses built into the cliffs – but at the same time, I absolutely want to stay in one of the tottering homes (I'll just pray that my stay won't coincide with an earthquake or tsunami). The Oceanside community is tiny, at just 326 residents, so the town's another quiet get-away spot.
One coffeeshop, (Brewin' in the Wind), one upscale restaurant (Roseanna's Oceanside Cafe). Not much on the web for Oceanside, other than a rather useful real estate broker's website.
Garibaldi. Founded in 1867, but there's not much to draw crowds today. Skip it, unless you really want to visit the Myrtlewood Factory Outlet. More info: Garibaldi.
Rockaway Beach. Vacation homes, antique shops and a family fun center line the streets of this small destination town. It welcomes all visitors — Upper Crust pizzeria even dishes up a gluten-free pizza. The famous 7-mile sandy beach is a treasure for families. More info: Rockaway Beach site and Greg Goes to Rockaway Beach.
Wheeler. A quaint two-block town with a romantic and rustic vibe. No beach here in the town proper, just lovely views of ships and piers. A pleasant getaway for mom and dad at the B&B-style Wheeler Inn. More info: Wheeler city site.
Nehalem. This town is unusual for the area; it's located on Nehalem River, not the ocean. It's a touch warmer too, removed from the cooling Pacific winds. Houseboats bob, and a vintage village vibe hums in summer. Hanging flower baskets decorate white-painted porches.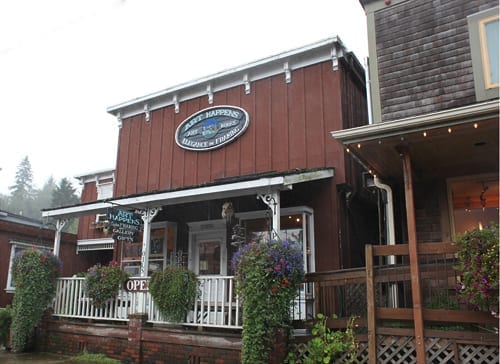 It's not far from the Nehalem Bay State Park, a perfectly picturesque campground featuring yurts, a playground, campsites — all amid short pine trees and twisted sitkas. More info: Nehalem city site.
Manzanita. If you love Cannon Beach's views but want to get away from the crowds, Manzanita's a stellar selection. Well-heeled restaurants, spas, yarn shops, bookstores; like a mix of a New England village and Oregon coast. Manzanita attracts repeat visits from families, year after year. Look for a vacation rental, but book it early or go off-season, because most families made plans last summer for this summer.  More info: Manzanita site.
What's YOUR favorite family-friendly Oregon Coast town, village or city?