Seattle Spotlight: Pacific Science Center
"The dinosaurs! The dinosaurs!"
That's what my 4-year-old son demands, when I ask where he wants to go at the Pacific Science Center.
And it's true – dinos are the big draw at this six-acre science playground, only a Monorail-ride away from downtown Seattle.
In the "Dinosaurs: A Journey Through Time" exhibit, robotic meat-eaters claw at a carcass, while a T. Rex towers over visitors. Screeches and cries fill the room, which can (at first) alarm very young kids. So encourage them to listen carefully – you'll hear the soft whirring and clicks of these mechanical dinos. In one corner, you can even drive a dino skeleton: rotating the eyes, moving the body. By the time the kids leave, they'll be fascinated, not frightened.
In the Insect Village, a wisecracking, robotic fly in a lab coat welcomes visitors, turning his human-size body as he speaks. Kids are repelled and fascinated by this guy – reflecting our uneasy relationship with bugs – and I'm always thankful that he's inside a cage. Man, I hate flies.
Keep going, and you'll pass a giant robotic scorpion and a praying mantis that looms over grandparents, parents and kids.
In glass terrariums, spiders, cockroaches and caterpillars creepy-crawl around their homes. At times, science center staff will take out cockroaches for a get-to-know-you session (better here than at home, right?).
The Tropical Butterfly house offers a steamy way to beat damp Seattle days. Stuff your coat in a cubby, then go inside and enjoy the warmth. Dozens of butterflies float through the air and sip on fruit. Stand still for a moment — the flutter of tiny wings creates breezes against your cheeks and hair. The fragrant flowers' smell hangs heavy in the sticky air. It's like Hawaii without the flight and checked-baggage fees.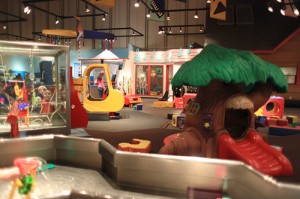 The Pacific Science Center's touch tanks encourage toddlers to stroke a sea anemone, and the gated-off toddler-preschool area offers lots of climbing toys, music-making and water play, plus an area for breastfeeding moms. It's a nice stop for family travelers.
Older kids enjoy the feats of physical strength, acuity and endurance in the Body Works Exhibit.
Don't gloat if you beat them. Be nice. It's only a matter of time until they decide our nursing homes.
————————–
More Info: Throughout spring break, the Pacific Science Center is open until 5 p.m. on weekdays, 6 p.m. on weekends.
f you're planning to travel to Seattle with your family, you may be able to take advantage of the ASTC passport program and gain entry for free.
Would you like a chance to win four free tickets to the Pacific Science Center? Tweet this link today (April 6, 2010) with the hashtag #GoPacSci for a drawing at 5 p.m. If you're not on Twitter, leave a comment below to enter.
5:04 PM UPDATE: Our winner is…Amy! Congratulations, Amy. Hope you have a nice time at the Pacific Science Center.