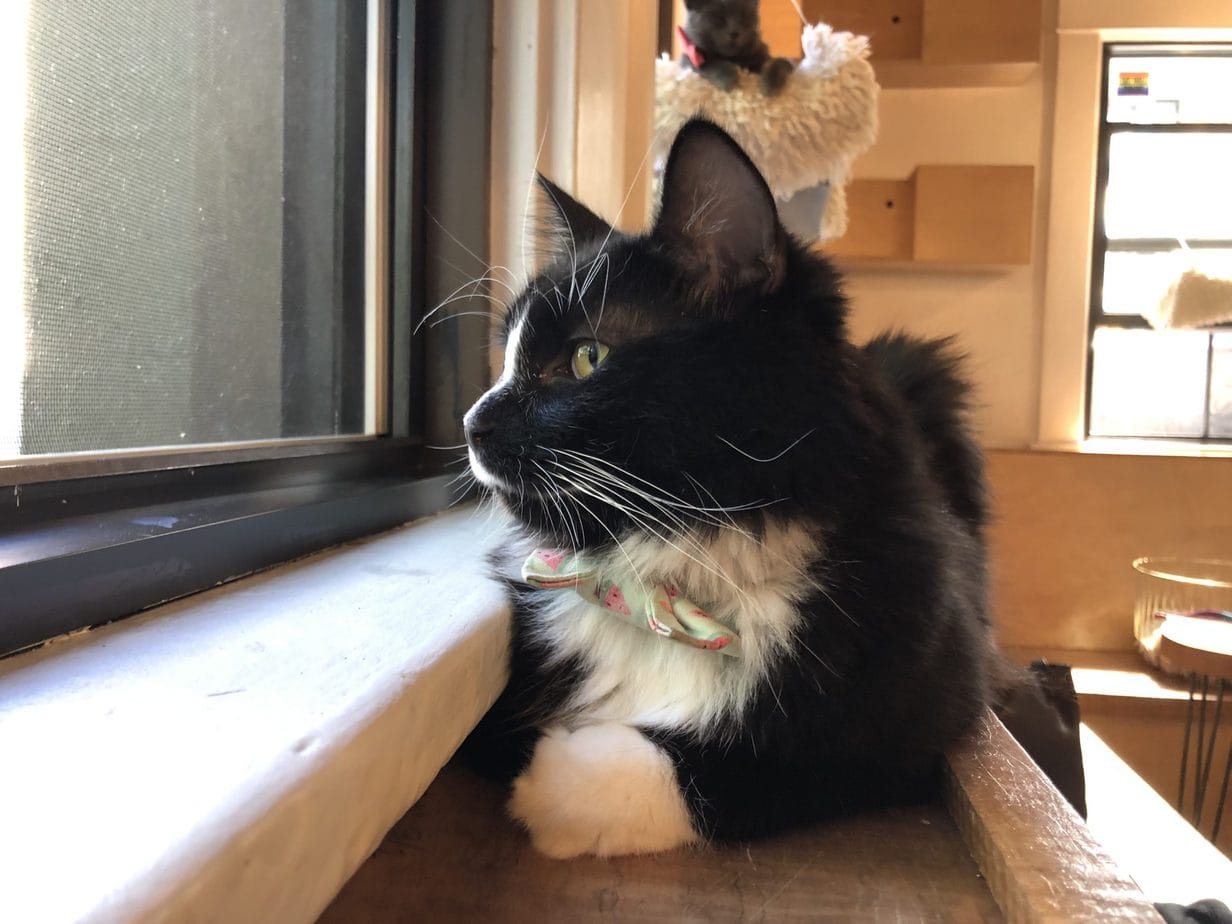 Seattle Cat Cafes and Vancouver Cat Cafes
I first visited a cat cafe in Tokyo, and was so happy when cat cafes started popping up in the Pacific Northwest. I mean, what's better for adults or children than making small talk with a cat while drinking a cappuccino? Okay, maybe cappuccinos + kids don't mix. Hot chocolate or ice cream is a better idea.
A few things to know before you go to a cat cafe (with or without kids):
Cats are cats. They may interact with you or they may just ignore you. Frantic, needy behavior tends to spook kitties. Remember: Cats needs to sleep up to 18 hours a day, much like a newborn.
Like all of their purrrsuasion (shhh! I get ONE PUN), these cats will like you more if you have treats. Some cat cafes provide treats for an extra price, or it may be included.
Most cat cafes have minimum ages for visitors. It might be best to take toddlers elsewhere.
Cat cafes primarily exist to find cats a "forever home." While pricing may sometimes feel like light extortion ($30 for an hour of cats ignoring you and the kids?), money funds the space, pays wages, and provides cat care to kitties with out homes. If you're on a budget, sign up for a cat cafe's e-mail list, where you can often find good deals, such as $5 off or student pricing.
Don't bring anyone who has impulse-control issues or otherwise can't follow what can be fairly comprehensive rules. For example, not picking up cats. That goes for you too, adults.
Some cat cafes allow you to bring your coffee into the room with the cats, while other don't, or only allow some items (such as drinks, but not cookies).
Wash your hands, and your kids' hands both before and after visiting with cats. Some cats are immune-compromised and could easily get sick from tourist (or local) germs.
Cat cafes are busiest on weekends, like most destinations. Make a reservation in advance, if possible, if you want to visit on a weekend.
Vancouver-Area Cat Cafes
Catoro Cafe.
This cafe's charming "cat forest" is where adults and kids can interact with kitties in a large, forest-themed room filled with yep…you guessed it—cat trees. The process of removing your shoes and sanitizing your hands is most similar to the Japanese experience. Bring socks.
Where: East Broadway, in the Mount Pleasant neighborhood.
Cafe options: This cat cafe offers fun, sugary beverages like pearl-cloud tea, bubble tea, Vietnamese coffee, and milk tea, along with mochi muffins.
Age restrictions. No children ages 4 and under. An adult must accompany children between the ages of 5 and 10.
Cost: Weekday admissions are in segments of 30 minutes for $8, and $2.50 for every additional 15 minutes. On weekends, you get 15 minutes for $5.75, 30 minutes for $85, 50 minutes for $11.50. For $17, you get 65 minutes and a drink.
Website: https://catorocafe.com/
---
Catfe.
This Vancouver cat lounge was one of Canada's first cat cafes, and was opened thanks to crowfunding success. Here, you and the kids can mingle with adoptable kitties while drinking an "ameowicano" or "hot chococat" ($3.95).
Location: Downtown kid-friendly Vancouver, near Gastown in Tinseltown Mall.
Cafe options: Handcrafted coffee drinks, adorable cat-themed treats and Hello Kitty cookies, vegetarian food such as quiches, scones and vegan cheesecakes. Gluten-free and vegan food is available.
Advance booking necessary? Not required, but a good idea.
Age Requirements: Ages 5 and up.
Cost: $10/person for one hour
Website: https://catorocafe.com/
---
Neko Cat Cafe Bellingham.
Yes, this cat cafe isn't technically in Vancouver, but it's an easy day trip for both Vancouver and Seattle families. This cafe will open in winter of 2020, and promises to be as great as its sister site in Seattle.
Location: Bellingham, Washington.
Serves: Coffee, wine, beer and all the cat-themed treats you could imagine. See the Seattle description below.
Advance booking necessary? Probably wise on the weekends.
Age Requirements: No requirements, but every two children under age 14 must be accompanied by an adult.
Cost: $11/hour
Website: https://nekoseattle.com/neko-bellingham
Seattle-Area Cat Cafes
Kitty Corner.
This Seattle-area cat cafe is a little different from others, but has some cool extras such as a kid-friendly Meowvie Night (watch movies with cats!), Kitty Kraft (make crafts with cats!), birthday parties (celebrate your birthday with cats!), and more. Cats here come from kill shelters in California. Another advantage of Kitty Corner: no minimum age restrictions, and kids age two and under are free.
Location: Edmonds, Washington, about a 30-45 minute drive from downtown Seattle, depending on traffic.
Serves: Some packaged snacks, soda pop and water is available, but not a full cafe.
Advance booking necessary? No.
Age requirements: All ages are allowed, as long as they can follow the cafe's rules. That goes for you too, adults.
Cost: Kids 2 and under are free; Kids 15 and under are $4, 16+ and adults are $8; Adults 55+ are $6. Perfect for a grandma-kid outing.
Website: https://www.kittykornerrescue.org/
---
Seattle Meowtropolitan.
One of the first cat cafes in Seattle with a large cat-visiting room and enormous picture windows looking outside. However, it's also one of the most strict, restricting kids until they're 8 years old.
Where: Seattle's Wallingford neighborhood.
Cafe options: Barista-made espresso drinks and fresh brewed teas, along with cat-themed cookies and savory treats.
Advance booking necessary: You can sign up for a spot online, or try your chance at a walk-in.
Age requirements: Ages 8 and up only. Family Day offers 50 minute visit for $12 per person, child or adult. There must be one adult ticket purchased for every two, and the adult must stay with children.
Cost: $13 for 50 minutes, 40 minutes in the cat lounge.
Website: https://seattlemeowtropolitan.com/
---
Neko: A Cat Cafe.
This sunny, bright cat cafe is small, but friendly, and limits entry so the space never feels overly crowded. As well, all ages are admitted. Ensure your child is ready for the rules here, as the cats all have feline leukemia, and there can be some fragile kitties in here.
Where: Located in Seattle's cool Capitol Hill neighborhood.
Cafe Options: Photogenic/Instagram-worthy Pusheen and Totoro treats, along with coffee and alcoholic drinks such as beer and wine. A quick note: They do not accept cash, so don't forget your plastic.
Advance booking necessary: Yes, definitely. Or you'll be waiting.
Age requirements: Children of all ages are admitted, but those under 14 must be accompanied by an adult. No more than two children per adult are permitted entry.
Cost: $12/person for 55 minutes, and all reservations start on the hour.
Website: https://nekoseattle.com/
---
Catffeinated.
One of the newest cat-cafes on the block, this cafe aims for the small-scale experience, limiting visitors to just 10 at a time. The cat room is surrounded by glass, so cafe visitors can watch kitties having fun.
Where: In Tacoma.
Cafe Options: Espresso drinks and tea, juice, along with sandwiches, cake pops and cookies. You can't bring food and drink into the cat area.
Advance booking necessary: Yes.
Age requirements: Children must be over 8 years old, although special "Kids Days" permit a wider range of ages and have fun extras like face painting.
Cost: $10/person
Website: https://catffeinated.net/