Great Gifts for the Local Family Traveler
What to buy the traveler in your life? Check this list: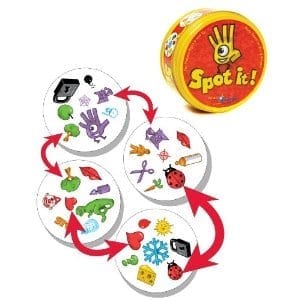 Spot It
is my favorite new game, hands down. It's easy to learn (you'll get it in about two seconds), scales well by age (I'd say 5 and up) and comes in a very portable tin.
Gift certificates to a favorite hotel or restaurant. Many come with bonuses for you, too. I've seen a 10% bonus for purchases for the Victoria Clipper, an extra $25 gift card when you purchase one $25 gift card at the Cannon Beach's Wayfarer restaurant and a few more I can't really mention — they were only for e-mail subscribers to the hotel e-mail lists. But you'll find these sort of "secret deals" when you sign up for a restaurant or hotel's e-mail li.
Reusies are one of our favorite ways of transporting snacks for the kids (particularly crackers, nuts, cheese, etc.) in the car. Children can chow down, then seal up the container themselves — no plastic lids to struggle with. ReUsies 2 Pack Reusable Sandwich and Snack Bag – Pirate
If I were buying just one gift for the family traveler, it would be a picnic backpack. We've had ours since our wedding day and have used it over and over again — it's a fantastic way to save money. Eat oatmeal in your hotel room or create a picnic from yummy things you've collected at Granville Island market. Here's one example:Â Picnic at Ascot Classic Blue Picnic Backpack for Four with Blanket
A NW-centric book, like Lonely Planet Pacific Northwest Trips or (my book)Â Northwest Kid Trips: Portland, Seattle, Victoria, Vancouver
or The Most Beautiful Villages and Towns of the Pacific Northwest.
AÂ Chicco Capri Lightweight Stroller. I don't have the money for a Maclaren. But I think a Chicco umbrella-style stroller ($65-75) is a great value for those of us on a budget. This particular stroller works well no matter what the streets throw at it — cobblestones, dips, bumps or grass-covered hills. It fits easily into most crowded urban restaurants and the handles work well for my tall husband. If you don't want to buy from Amazon, head to your local Babies R Us, which typically has this stroller in stock.
A membership to a local zoo or science center. All the better if they're participating members of the ASTC Passport Program or the Association of Zoo and Aquariums, which allows the recipient to visit nearby cities' zoos and science centers for free or at huge discounts.
Is there anything you hope Santa brings you this year?