20 Things to Do in Bellingham with Kids
Recently, we went on a short jaunt to Bellingham, Wash., about 30 minutes south of the U.S.-Canadian border, and two hours north of Seattle. It's a cute little college town with a thriving arts scene and fabulous food. Turn-of-the-century architecture lines downtown Bellingham's streets, and the town is home to Washington's oldest brick building (built in 1858).
While many of us know Bellingham as a place to stop en route to Vancouver or Seattle, I think Bellingham deserves its own overnight stay or weekend getaway. Here's my guide to family travel in Bellingham:
10 a.m. Whatcom Museum of History and Art
The Whatcom Museum's new Family Interactive Gallery took us all by surprise. It's amazing what they've done in such a small space.
Kids can craft in the art room, build with enormous Tinkertoy-like foam toys, or play camp (like with tents, not with sequins) in a Northwest-themed area.
We created a soundscape with authentic Cascadia noises (orcas, owls and of course, rain).
I liked how real art was mixed into each exhibit space, along with questions to provoke discussion.
The gallery is ensconced in smooth, touchable wooden fixtures and forms; all of it is handcrafted from sustainable wood, by a local woodworking shop.
Noon. Super Mario's. Most kids love Mexican food, all smothered in cheese and whatnot. But how about El Salvadoran food? What if the restaurant was named Super Mario's? (3008 NW Ave., 360-393-4637). With such an awesome name, you can't go wrong. Right?
No one was in the small dining spot (thereby violating travel rule #1: Never eat in an empty restaurant). Super Mario's was a jarring combo of high-end and low-end, and I feared for the worst. It was inside a stripmall, with granite-style tables and marble floors, with two dueling televisions playing on each end of the rectangular room.
But Super Marios served a fantastic south-of-the-border meal – we had pupusas (tip: add the green sauce for a stellar experience), we had creamy tamales, we had quesadillas that rocked so hard that even my veggie-hating kids ate them in a hurry and pleaded with us to quit stealing bites.
AND they play Nickelodeon on one of the TVs, at least on the day we were there. Can't beat that. By the time we left at 1 p.m., (pink sugary cookies in hand), the restaurant was full.
1 p.m. Aladdin's Antiques. Half history lesson, half shopping experience, Aladdin's Antiques (427 W Holly St.; 360-647-0066) offers cute figurines, Star Wars goodies (we found a retro 1981 activity book my son now carries everywhere) and great vintage finds for your kid's room. My kids have found enough treasures at antique malls to be interested; yours may need some convincing.
If your kids are definitely NOT into in oldy-worldy goodies, you can send them (with your partner) to Mindport. They'll love it, promise.
2 p.m. Mallard Ice Cream. About a 10-minute stroll from Mindport, Mallard is the ice cream shop a child would design, if only we parents would let them. Bright-red barstools, vivid green couches, and out-of-this world flavors that seem like they were hand-mixed by a creative 4-year-old foodie – black sesame vanilla, cardamom, rose, butter pecan and over 20 more.
We all wanted to try multiple flavors, so we bought a bowl with four scoops, topped with chocolate and whipped cream. After the kids polished off the bowl, they played a sticky-fingered game of Connect Four.
3 p.m. Walk Fairhaven. Fairhaven is a steep-sloped Bellingham neighborhood. It's crowded with artisans' galleries, kids' toy shops, a cupcake shop, a great gelateria (Sirena) and cool little indie bookstores, all within about six city blocks.  An itty-bitty San Francisco, as it were.
A former rough-and-tumble waterfront town in the 1800s, Fairhaven has now been gentrified. You won't need to fear the likes of "Dirty Dan," described as an "infrequent bather" (sound like anyone in your home?). He was also worked as a rum-runner, war-inciter and in other jobs not outlined on Career Day. However, you will see bronze statues memorializing Dan and placards describing the town's bad history. Kids love that stuff.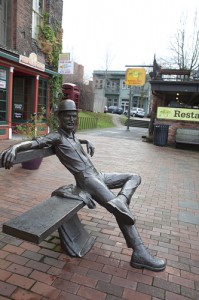 Fairhaven is well-situated for Seattle and Vancouver families – the railway station drops you about a quarter-mile from all of the action. Victoria families can take the Victoria-San Juan Cruises over to Fairhaven, starting in late spring.
Summer may be the best time to visit – you can take advantage of the Fairhaven Outdoor Movies (see the past year's showings here).
5 p.m. Marine Park. Walk 10 minutes from Fairhaven's core toward the water, past the Amtrak station and the large ferries destined for Alaska daily (as part of the Alaskan Marine Highway System) and toward Marine Park.
Flat, smooth stones (perfect for skipping) populate the Marine Park's shoreline. I recommend arriving about 10 minutes before sundown. Bring your camera! Here, it's like the sun can only set in some sort of Kodak moment, behind the San Juan Islands and the Olympic Mountain Range.
6 p.m. Boundary Bay Brewery. We drove back out of Fairhaven for dinner. While Fairhaven has plenty of restaurants, we'd heard raves about Boundary Bay Brewery, and we weren't disappointed.
If you forgot to make a reservation, kids can pick through the Duplo block basket in the waiting area. But note: Make a reservation! Although this brewpub offers large rooms and lots of seating, it's incredibly popular with college kids, families and singles. Smart sandwiches on Great Harvest bread, creamy salmon chowder, micro-brewery beer, the whole authentic Cascadia mix.
Overnight. At this point, we could've gone home, but we decided to spend the night in Fairhaven to soak up the atmosphere. We stayed at the 22-room Fairhaven Village Inn, which has special winter rates and a fun library room with games.
The room's gas fireplace made the room toasty on a winter night, and the next morning, my kids gobbled their free continental breakfast. They ate cereals, bananas, muffins, made-to-order waffles, eggs and yogurts. Yes, each child ate all of those things. When you figure the cost of feeding four people in my family, a breakfast-inclusive stay is always a money-saver.
8 a.m. Harris Avenue Restaurant: However, if you decide to sleep elsewhere, I recommend going for breakfast at Fairhaven's Harris Avenue Restaurant (1101 Harris Ave.; 360-738-0802), where we've eaten on our way back from Vancouver, BC. You'll find hearty breakfasts, plus fruit face pancakes for the kids. Huge, huge lines. Get here early for your cornmeal pancakes.
This summer, we hope to return — maybe take the Amtrak up for a family day trip, or bring the car for a weekend. We want to cruise the well-regarded Chuckanut Drive, forebodingly called Upchuckanut Drive by some locals.
My youngest is an upchucker. We'll need to be well-prepared.
——————————————
To discover more about Bellingham, check in with Bellingham Whatcom County Tourism.
What did we miss in Bellingham? Do you have any tips for the prevention of road nausea?