Whether you're flying in or out of Vancouver International Airport (YVR) in British Columbia,  you'll find plenty to do with kids. I love the diversity of offerings — where else can you find an outdoor park, a play area, a hands-on observation deck and an on-site airport aquarium? There's so many fun activities, you almost want to book a trip just to play. Here's a full map of the Vancouver Airport.
Children's Play Areas at the Vancouver Airport
With three locations after security and one before security, there are a number of areas throughout the airport for kids to play and climb. Before security, near the domestic terminal food court (Departures Level 2), you'll find a play area.
After security, there are three different play areas to choose from:
Domestic Terminal, Departures Level 3, Gate 3
Domestic Terminal, Departures Level 3,Gate 43
International Terminal, Departures Level 3, Gate 54
Family-Friendly Washrooms at the Vancouver Airport
A changing station is located within every washroom, male and female.
Nursing Mothers' Area at the Vancouver Airport
A nursery room equipped with cribs, play pens and a changing area is available before-security in the United States Terminal, Departures Level 3. It can be accessed at a person's request. It is a large, quiet area where parents can have some privacy if feeding or changing. There are family restrooms at every washroom location with full change stations. Of course, throughout the Pacific Northwest and BC, nursing in public is both accepted and welcomed.
Additional fun zones and things to do with kids at the Vancouver Airport (observation area, aquarium and park):
If you've got a child that loves to point to the skies every time an airplane flies overhead, you'll want to take them to the Public Observation Area located before-security in the Domestic Terminal on Level 4.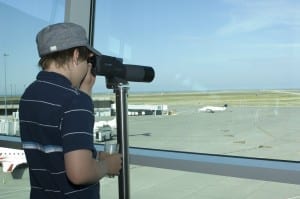 Peer through telescopes to watch aircraft land, listen in on air traffic control, or learn about airport careers.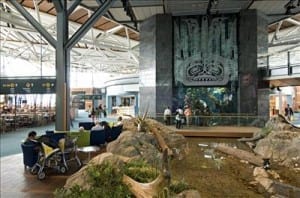 Located in the after-security area of the International Terminal is a 114,000-litre aquarium with over 5,000 aquatic dwellers. Kids can seek out a variety of Cascadia-native underwater fauna, including wolf eels, sea stars, sea urchins and more than 20 different species of fish. The Vancouver Aquarium also runs a duty-free store right at the airport, should you need some great souvenirs or toys for the plane ride home.
For families needing a little fresh air, the airport's Chester Johnson Park houses First Nations art including K'san Totem Poles. Located right outside the International Terminal (before security), Chester Johnson Park is a great spot to go for a walk and take in some of B.C.'s beautiful landscape. Miss 604 offers a great write-up of Chester Johnson Park.
Read more about traveling with children here, at the Vancouver International Airport's website.
Thanks to Jenny Duncan for background information and photos.