Kid-Friendly Restaurants in Port Townsend
Port Townsend's well-travelled residents wouldn't accept just any ol' menu. So you'll find a wealth of kid-friendly picks to refuel your family travels and adventures.
Breakfast
In the "Uptown" above downtown Port Townsend, you'll find two excellent breakfast options within walking distance of the town's Victorian-era mansions.
Enjoy the fruits of residents' refined tastes at Pane d'Amore, a tiny shop that brims with customers, before the sign is flipped to "open."  Kids love the cinnamon twists, a braid of crunchy, buttery delight. Adults might opt for the sophisticated apple-shaped danish. Eat these flaky delicacies outside or you'll find crumbs under the carseats for weeks.
If you're looking for a little more ooh-la-la, take the family to Sweet Laurette's Café and Bistro: chocolate croissants, pear galettes, metal chairs in a verdant outdoor dining area and full by 9 o'clock a.m.
And back in downtown, the brand-new Water Street Creperie's (1046 Water St.; 360-385-1151)Â sweet and savory options satisfy everyone in the family. Order your cinnamon or chicken pesto crepe, then snag an outdoor table facing Water Street, the town's main drag.
Lunch
So many choices. Such limited stomach real estate.
Follow your nose to Waterfront Pizza (951 Water St.; 360-385-6629), then choose from downstairs' bustling take-away window or upstairs seats overlooking Port Townsend's water street. Pizza takes time here – at least 20 minutes – so enjoy the Trivial Pursuit card-filled baskets, color with crayons and look jealously at your neighbor's pie. The cornmeal-dusted crust is piled high with vegetables and meat; this is knife-and-fork pizza.
Want something a little lighter? Salal Café (634 Water St.; 360-385-6532) presents sandwiches, soups and eggy entrees inside a window-wrapped, light-filled interior or out on the flower-full patio. Crayons and paper make their way to you upon your seating, and kids' meals include a bear-faced pancake (banana nose!) and a heart-shaped grilled cheese. Try the homemade strawberry jam. If you love it, you can buy some to take home.
For organic and locally-grown fare, Better Living Through Coffee serves hearty sandwiches, salmon chowder and small pastries from a premium location overlooking the water.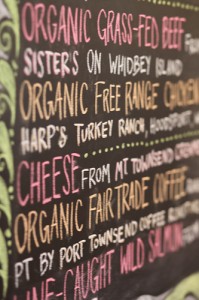 Lunch on one of the low couches, while the kids read from the basket of picture books or look for the toy bags filled with simple games.
Don's Plaza Soda Fountain (1151 Water Street; 360-385-2622) serves a straightforward, no-nonsense meal. It's an authentic 1961 diner spot housed in the rear of Don's Pharmacy. Go to the back right of the store to sit on swiveling stools and order at a low counter. Burgers, dogs, malts, sundaes and phosphates are on the menu — same as 50 years ago — but with a modern-day addition of a Gardenburger.
Dinner
Here's where things can all fall apart. You've hopefully had plenty of adventures by 5 p.m., and wisely choosing your evening restaurant makes for a memorable day (in a good way).
Are the kids all kinds of whiny? Could you care less what you're eating and want a view of the ferries leaving the Port Townsend dock? Eat at La Isla Family Mexican Restaurant (1145 Water St., 360-385-1714), a Mexican restaurant long on views and short on stylish décor. The menu is mediocre but it works; the cabbage salsa is different and delicious.
Are the kids doing reasonably well? You want a beer, nice conversation, pub-style food and paper tablecloths the kids can draw on? Eat at The Public House Grill, a local favorite. The kids' menu includes fish 'n' chips, salmon fritters and burgers.
Are the kids behaving exceptionally? You want wine, foodie fare, sophisticated dining and $7/plate children's meals? Eat at Silverwater Cafe, a restaurant that knows how to grill piece of fresh, wild salmon and serve it on a bed of wild rice and asparagus. Portions are small but perfectly cooked.
Dessert
After dinner, pick up an ounce of ice cream at Elevated Ice Cream & Soda Shop. This ice cream shop actually sells ice cream by the ounce, so even the baby receives a right-sized portion of vanilla-mint or one of the shop's flavors of ice cream or Italian ices. Kids can sit at a petite French-style café table to devour their cone. Next door, a dentist's nightmare of a candy shop sells delectable chocolates and giant lollipops.
Bring change — for 75 cents, the shop's vintage bison provides rides.